Your computer consists of many components made by a list of different manufacturers around the world. The programs that Windows uses to interact with these devices are called drivers. Long after a manufacturer first releases a device, it can update device drivers to add new features, fix bugs, and improve performance. It is often difficult to keep up with all these updates, as they are usually only released on the respective manufacturers' websites.
A driver updater like Driver Reviver from ReviverSoft can help you keep your drivers up to date. Driver Reviver scans your computer and lists the devices that can be updated. Once you click Update, the drivers will be downloaded and installed, without you needing to visit all the different manufacturers' websites.
In this Driver Reviver review, we evaluate the software to decide if it is the best driver update software available today.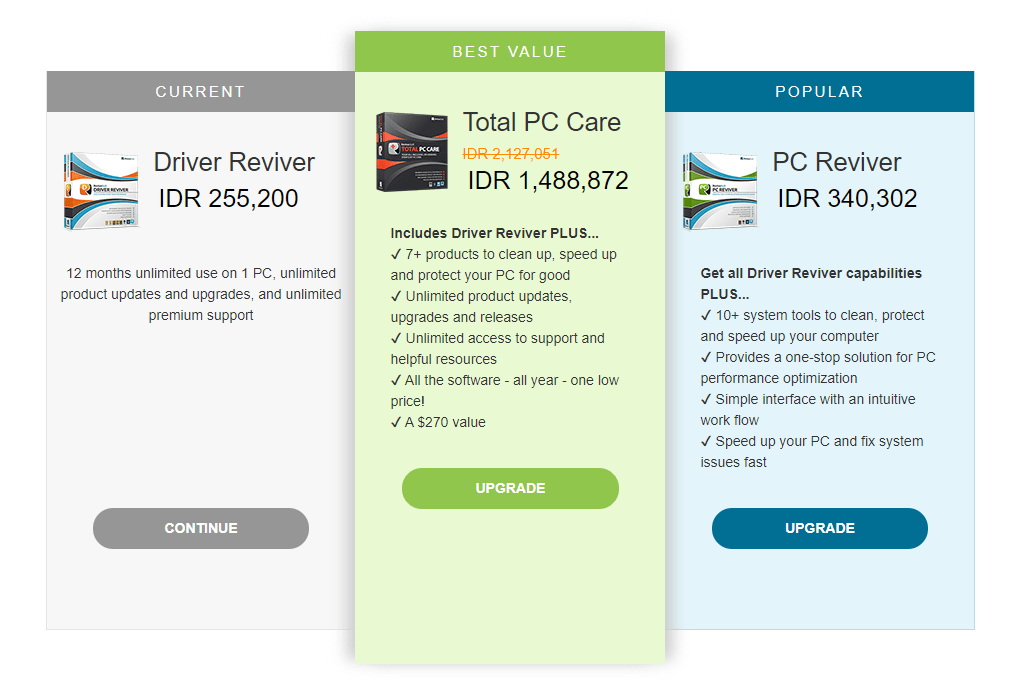 Driver Reviver Package Price
The Reviver driver is available as free from ReviverSoft, but to use all features will cost Rp. 255,200/year per computer. It is also available as part of two software bundles for Rp. 1,488,872/year and Rp. 340,302/year.
The free Driver Reviver installation gives you almost all the complete software features. The important difference is that you cannot update all the drivers at once. Instead, you have to click the Update button for each driver in turn.
Driver Reviver Featured Features
In addition to the driver updater, Driver Reviver provides a Backup Manager. You can make a complete backup of all your installed drivers or select individual drivers to back up. This can be useful if you're not sure that a driver update will work and you want to be able to easily and quickly rollback it if something goes wrong.
Plus, you have the freedom to choose when and how the driver scan is performed. Your scheduled scan can be set to download drivers and even install them automatically.
Driver Reviver Interface
Installing and using Driver Reviver is easy. This software has a professional interface, making it suitable and good for use in the office. The interface works well in displaying information about your current driver. If you click the Information button, you get more details about how outdated your driver is and when the latest version was released.
When you first install Driver Reviver, it's a bit too insistent to remind you of your drivers. There are often pop-ups stating that your driver is out of date or an update is available. Fortunately, this craze can be reduced in the software settings. Driver Reviver, by default, is set to run at startup, display other product recommendations, and send usage tracking diagnostics back to the company. All these functions can be disabled.
In our tests, Driver Reviver found 17 old drivers on our Windows 10 computer and 15 older drivers on our Windows 8.1 laptop. This is one of the best results we've seen of driver update software, so Driver Reviver is an excellent choice if you're having trouble finding the right driver update for your unknown hardware.
Support or Support
There is a simple FAQ for Driver Reviver online. Most answers include useful screenshots showing you how the software works.
If you prefer more direct support, you can contact ReviverSoft via the contact form. ReviverSoft states that it tries to respond to support tickets within 24 hours.
Review Conclusion
Driver Reviver is the preferred program. This software works well in finding the latest drivers on our computer, and is easy to use. Price tag Rp. 255,200/year/computer is a bit expensive, mainly because it lacks additional system utilities to clean, optimize, or maintain the computer. But if you don't mind the cost, Driver Reviver is a driver update program you can rely on.
How, is Driver Reviver one of your choices in choosing a software updater?